For you, Madrid
(POR TI, MADRID)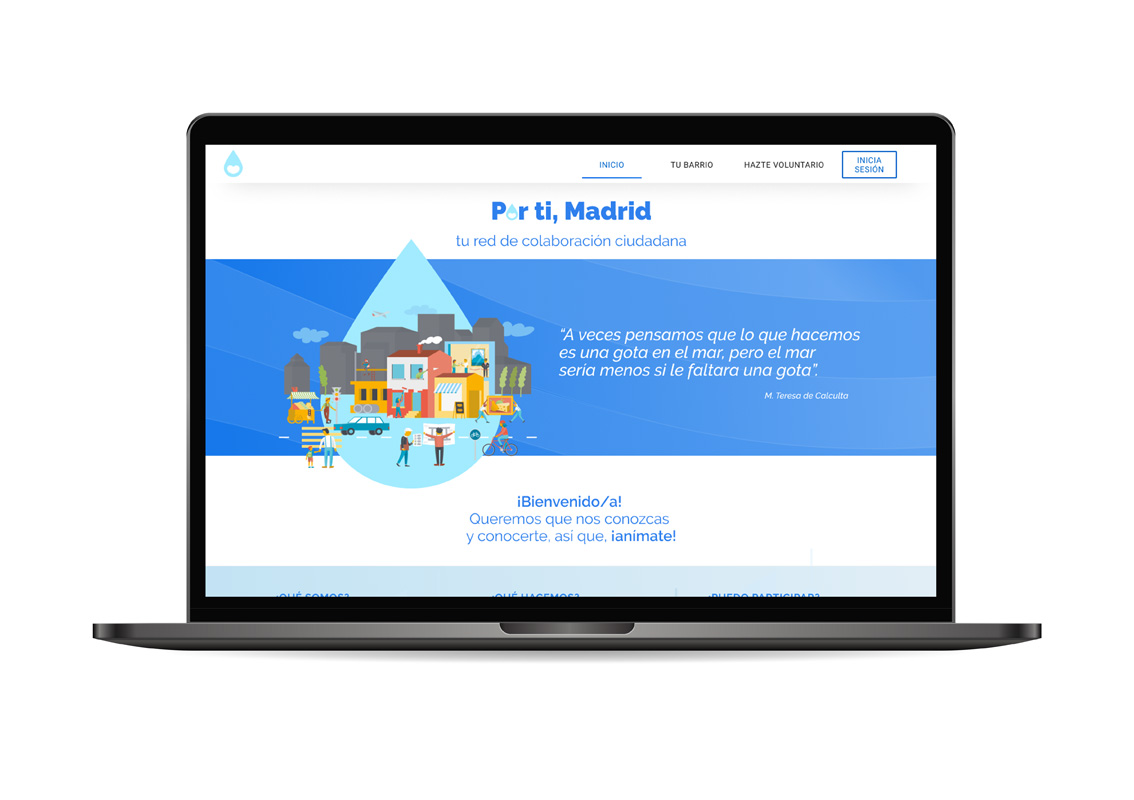 Creation of a project on citizen security for the Madrid City Council.
Categories
Research
Branding
Design
Personal project
The Madrid City Council needs the city to be safer. According to statistical data, the most insecure areas in Madrid correspond to the Centro, Carabanchel and Puente de Vallecas districts.
According to police data this is due to:
Drug traffic

Theft and robbery
Assaults on persons
Target
People who live or visit Madrid, either as tourists or as regular visitors.
Goal
Improve user safety on the streets, Metro and public places of Madrid
Methodology
Design Thinking brings the user to the center, makes him the protagonist, it helped me to open my mind and get to know in depth what the level of crime is in Madrid.
research: techniques useds
As I had only fifteen days to develop both the research part and the visual layer, I decided to include the following techniques to support the research phase:
User Persona, Empathy Maps and User Journey
In order to map all the doubts that arose regarding the main idea, we asked questions about users and crime, questions that we would like to be able to answer through research.

We conducted interviews with four different types of profiles:
Two National Police
A retired lawyer who volunteers at a halfway house
A young social volunteer
An ex-drug addict
The result of all of them was decisive in order to focus the project. We extracted the following verbatims:
Laws and citizen security
"Anyone can arrest someone who is fleeing or escaping from justice and detain it until the police arrive, they are trained to do so, what happens is that people do not know it." NATIONAL POLICE 1

"Citizens give more truthful information and if you are in plain clothes for a week or two you sing a lot, however if there is a neighbor watching, he can tell you many more things …" POLICIA NACIONAL 2
Sense of community
"We are moving away from the sense of community […] You realize when you come from a community (Nepal) you come back here and you feel super lonely […] If a neighborhood is organized it knows what is going on, networks are woven". SOCIAL VOLUNTEER

"Any district or local police station has a representative at the level of citizen participation" POLICÍA NACIONAL 2
Difficulty of reintegration for marginalized groups
"They are very weak people, when they go out and feel alone it is very difficult for them NOT to resort to drugs." RETIRED VOLUNTEER INSERTION

"The biggest problem they have is the social stigma they carry with them for life." RETIRED VOLUNTEER INSERTION

"If I have been able to help you and that this also helps, I am satisfied, really" EX-DRUG ADDICT
We were able to extract four pieces of revealing information:
Citizens are ready to help.
The role of the environment during the crime is important.
Citizens consider it important and necessary to give a criminal a second chance.
Yes, to the figure of a united citizen community.
We were surprised to see that 88% of those surveyed stated that they felt safe in Madrid. With which, the problem of feeling of security was not as we had supposed at first.
From the questions that we approached in an open way, we were able to extract this tag cloud.
88% – they felt safe in Madrid

65,31% THEY CONSIDER A CITIZEN PATROL USEFUL

40,40% -BELIEVE IN REINSERTION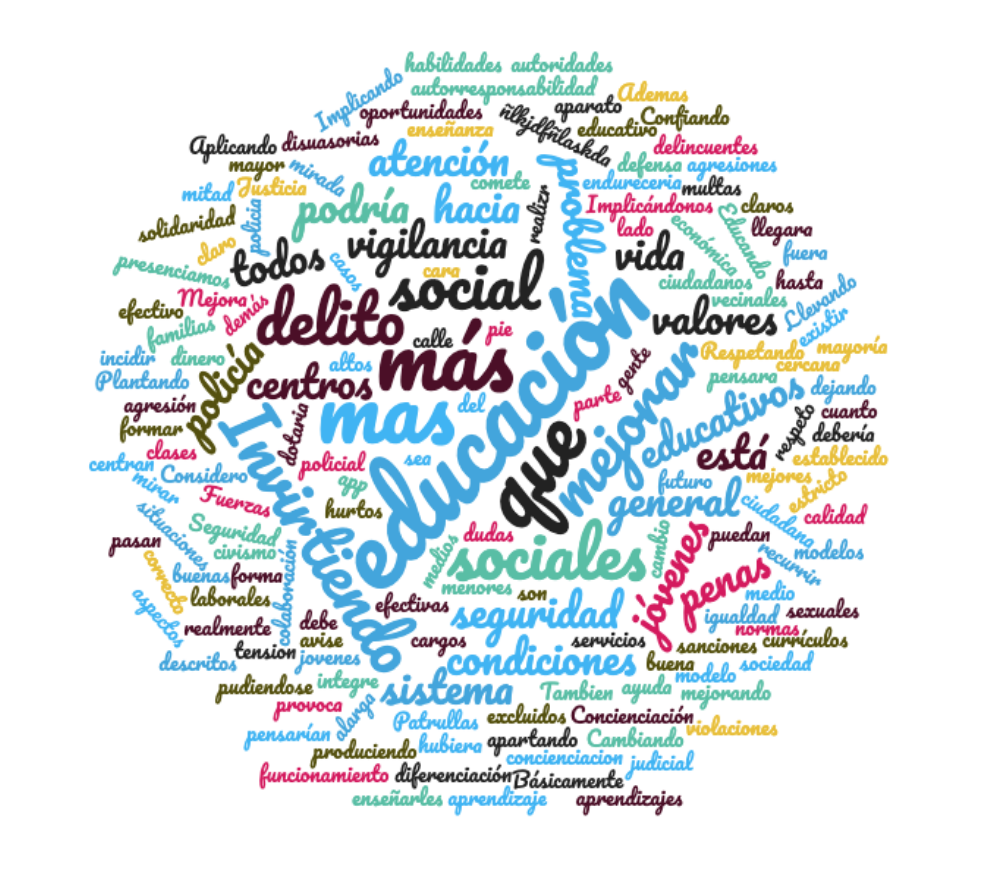 We also decided to go on a safari in Madrid, specifically in Puerta del Sol, for an hour we were analyzing what was happening, looking around us with different eyes than those of people who were circulating in a hurry or the clueless tourists taking photos. We were able to observe how strange characters approached them, how what seemed to us policemen in civilian clothes prowled around the situation and the feeling of insecurity that can be perceived when you simply stop to observe what is happening on a busy street in Madrid.
Based on the answers collected, we decided to carry out an In & Out to visualize what would be the limits of our project. We were able to determine what issues were beyond our reach and observe that, however, many issues were in our hands, such as educating in respect and defense, inclusive citizenship, feeling of community, etc.
Users Persona, Empathy Maps and User Journey
We had collected such valuable information that it was time to give life and voice to all those people who had kindly helped us through questionnaires and interviews. We created archetypes based on the behavioral patterns revealed during the research project and they subsequently served us as a communication tool during the design of the service. We describe three user Persona and the User Journey of each of them is the one shown in the image.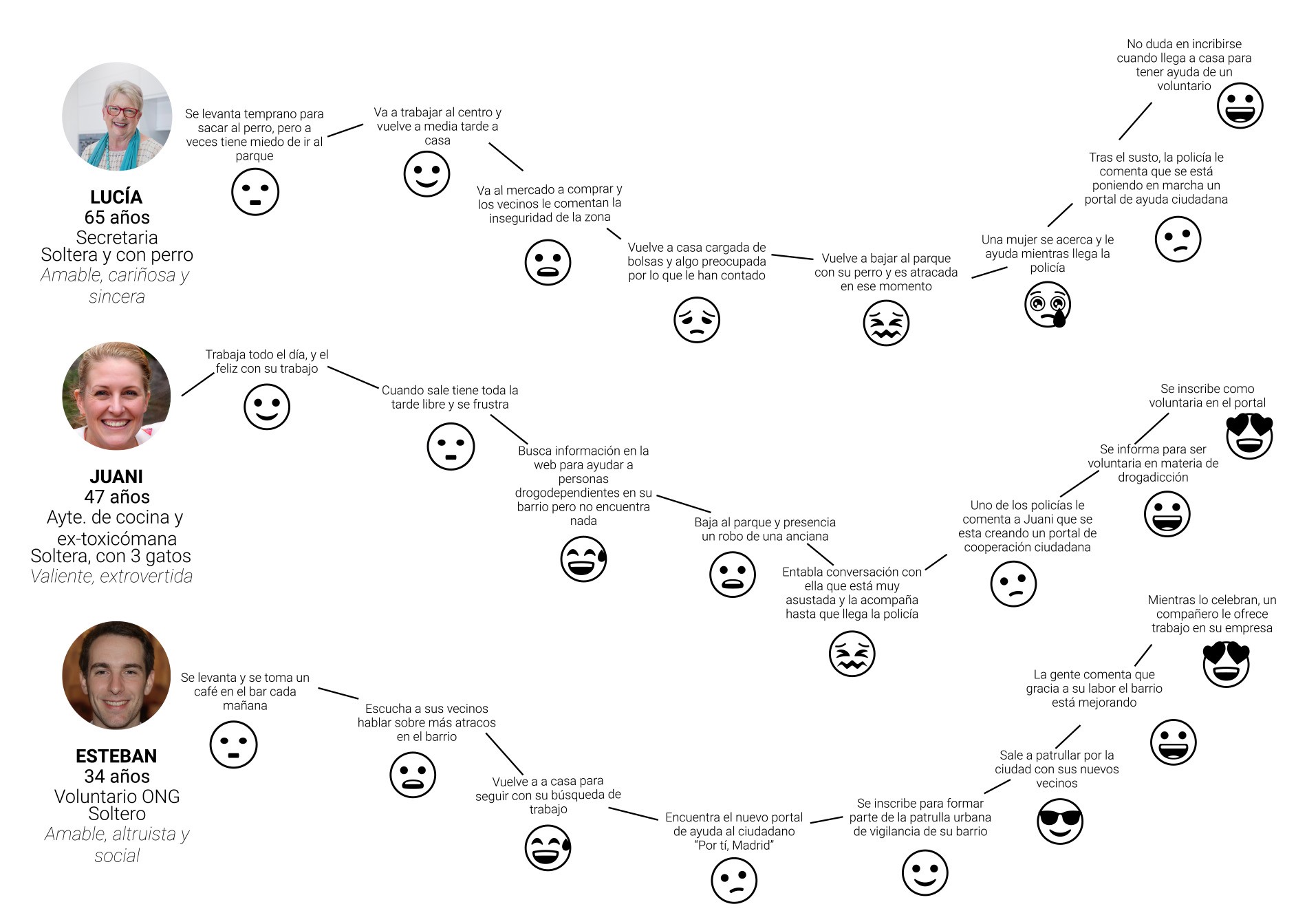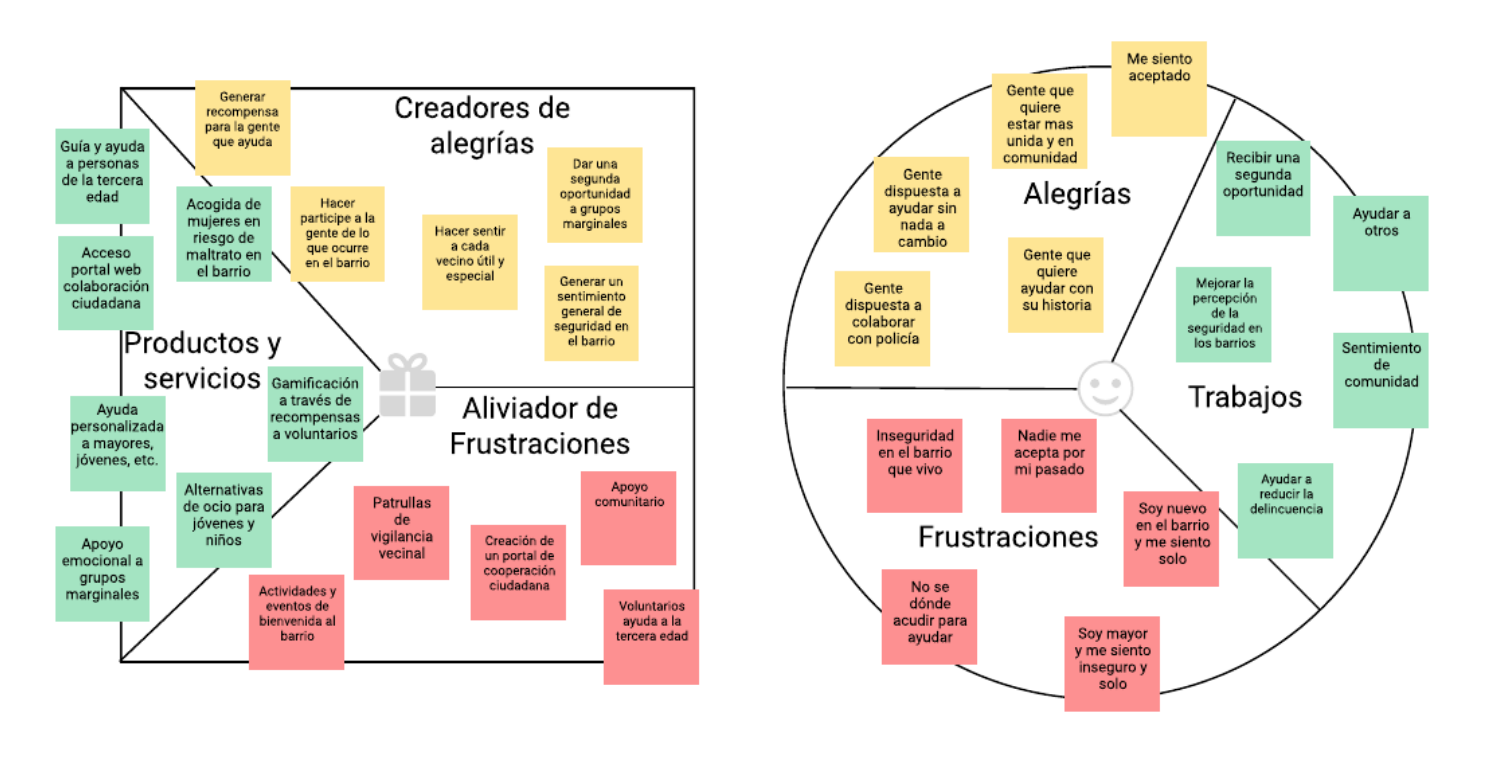 Once we had defined how our service could be, we made a value proposition canvas, this tool helped us to know and learn what benefits users could obtain by using the citizen collaboration portal and defining the services offered.
We drew very valuable conclusions that allowed us to outline the objectives that the citizen collaboration portal should meet:
Create a community
Make neighborhoods a more inclusive environment
Help reintegration fighting against marginalization.
Work with young people and their leisure
Strengthen the group feeling
Help create a safer environment for citizens
Provide space for people willing to help to do so
Prototyping and navigation flows
Prototyping and navigation flows
Last stage of the project, the creation of the prototype, working from the wireframes to the hi-fi screens.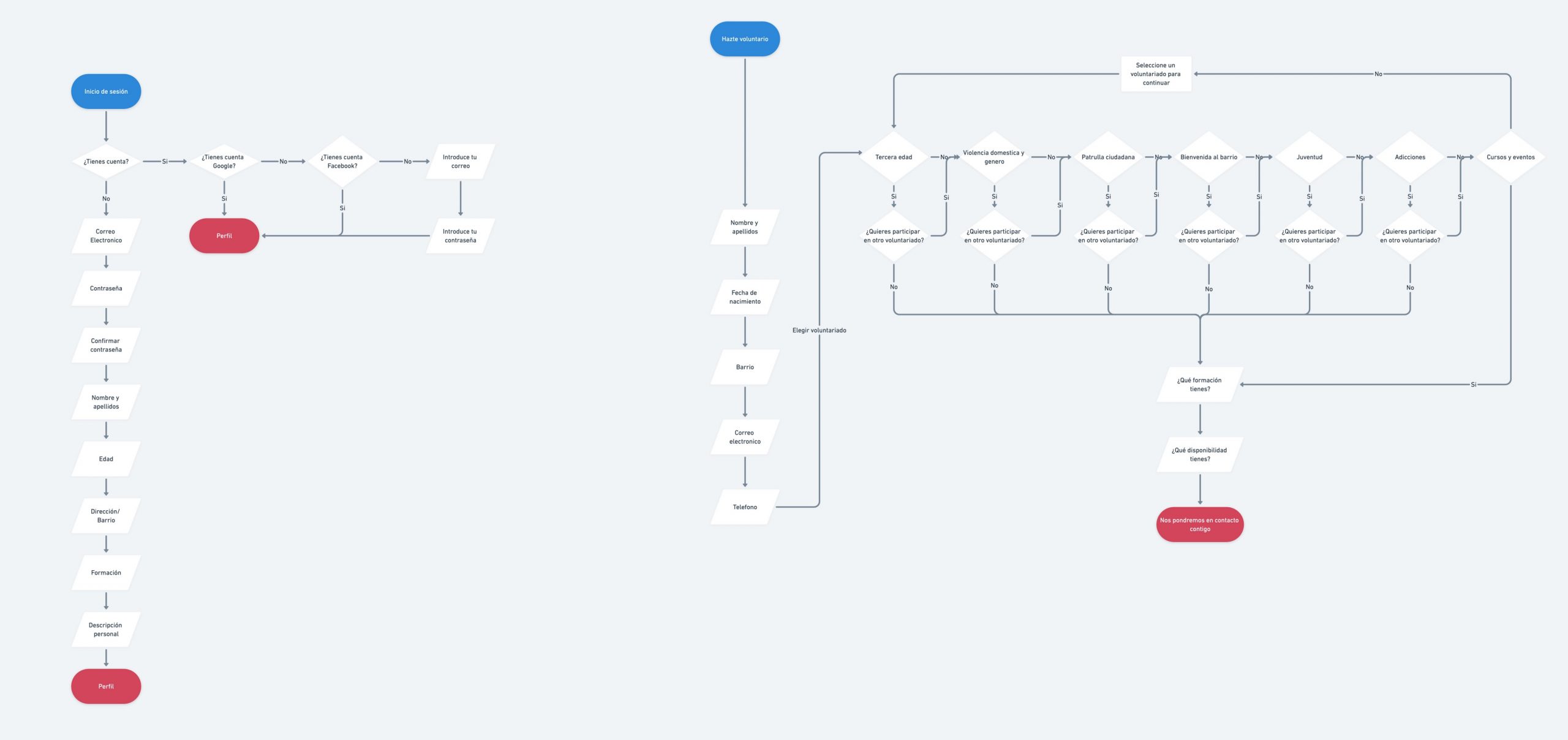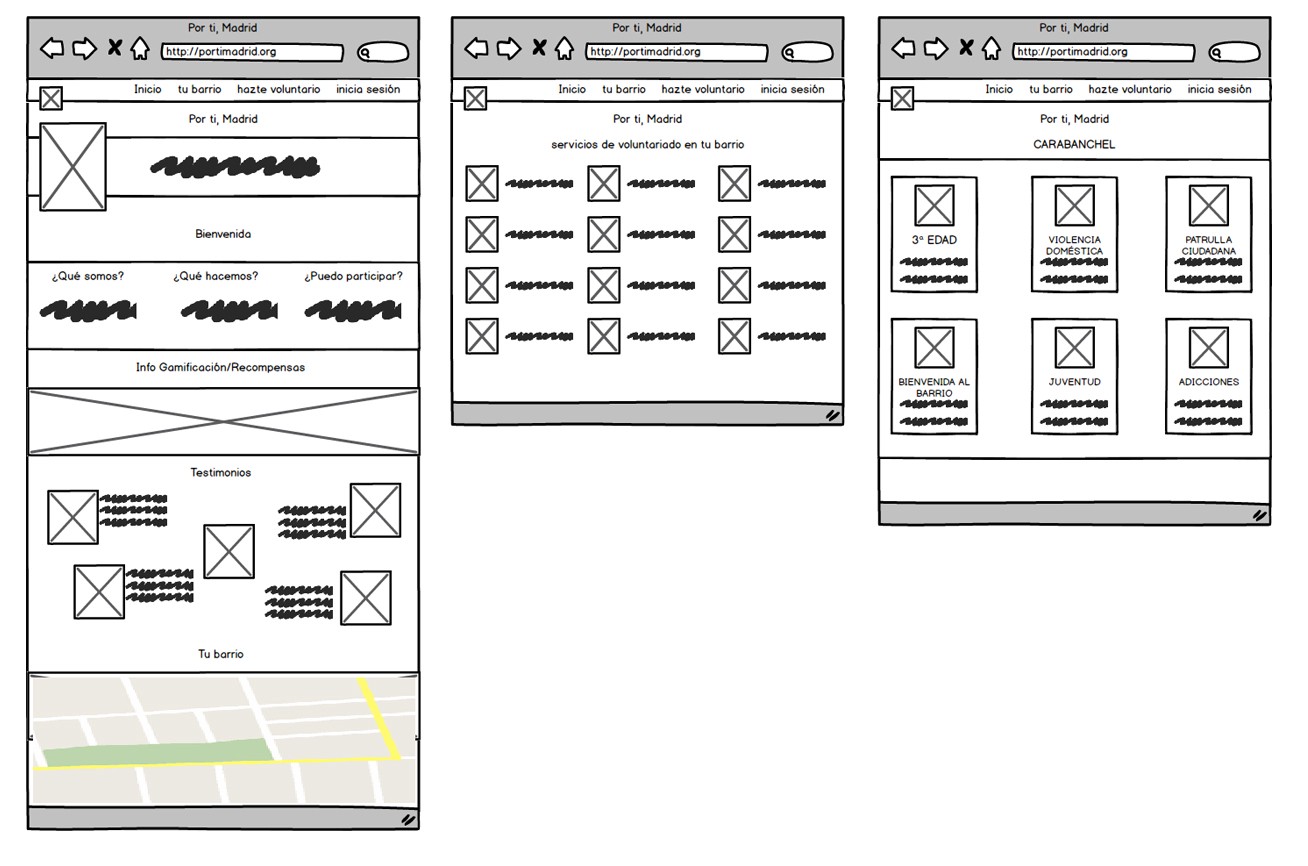 After brainstorming, the name chosen for our project was "For you, Madrid" and we decided to rely on the motto of Mother Teresa of Calcutta that says:
"Sometimes we think that what we do is a drop in the sea, but the sea would be less if it lacked a drop."
This quote seemed very powerful to us because give the idea of cooperation, of community. To express that no matter what you do, it is enough to generate a change around you. Express that a united neighborhood is a safer neighborhood.
This claim helped us build the logo, with the idea of drops that come together and form an ocean of people connected to each other. The drop served as a leitmotif to use it in different graphic resources.
One part that we gave a lot of importance to was Ux Writing, it seemed key to us to use a close, friendly language that invited cooperation. In addition, it had to be considered that the range of public that could be seen at the portal could be very different in terms of age, origin and interests.